KINGVALE Overview
Kingvale is the closest snow play area to the Bay Area. Right off of I-80 at exit 171, it's close enough for day trips, and well before Donner summit so you can usually get here without needing chains.
Kingvale was one of Tahoe's original ski areas, founded in the 60's, but has gone through multiple ownership changes over the years. We're reopening this winter for skiing and snowboarding for the first time in decade!
While much smaller than nearyby resorts (such as Squaw or Northstar), Kingvale is great for families looking for an authentic introduction to winter sports, with perfect terrain for first time skiers and snowboarders.
Like all Snow Schoolers locations, Kingvale offers affordable skiing & sledding options in Tahoe. Enjoy sledding for just $15, lift tickets for $50, and private lessons starting at only $80!
We have very minimal indoor facilities, but since there's still a pandemic going on, we hope that's not what you're looking for anyhow. We do have a handful of propane heaters with outdoor seating, and plenty of hot cocoa from the food truck!
All ski lift tickets include free all-day sledding. The sled hill is fully supervised with staff at the top and bottom to ensure the safety of both active sledders and unwitting bystanders.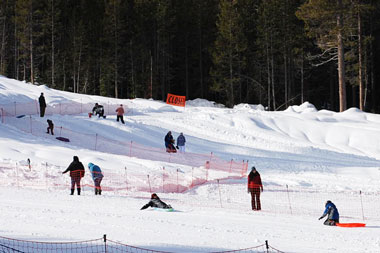 More info at Kingvale.Snowschoolers.com